How to take advantage of on-demand services to create music merchandise
Filed under: Essays
Comments: Comments Off on How to take advantage of on-demand services to create music merchandise
I recently committed myself to figuring out the best ways to create really cool merchandise for a self-released album – without spending a dime.
Why? Well, for starters I'm releasing a new album soon, and with that I have been spending a lot of time looking at merchandise options, and exploring the different ways that people value music. What I've learned is that there's a big difference between music that we just listen to, and music that we want to support.
Using myself as the prime example, if I want to put something on or discover something new, I'll *gasp* go to Spotify, or iTunes, SoundCloud, Bandcamp, eMusic, YouTube or one of the hundreds of other websites that make it easy to discover and hear new music. Most of it is free, and it's right at my finger tips.
However, when I want to support a band, I buy something. I've spent years touring with bands and I know that merchandise is crucial. I'll even go so far as to buy stuff just to buy it; I recently bought a friend's new CD at a gig, and I don't even own a legit CD player anymore. Lot's of people have no problem paying slightly higher prices for stuff when it's all about the support, or when they get cool merch in exchange. $20 for a CD? Sure. $45 for a hoodie? Ok. $25 for a t-shirt? Hell yeah! It's a great way to rep the band, helps them with gas money to the next show, and you can never have too many t-shirts. In stark contrast – I would never pay $25 for a basic t-shirt in a store… but if it's wrinkled and coming out of a stinky box that's been in the back of a van for several weeks? Sold. I might take 2.
If you're in a band and you tour – you gotta have merch. That's not changing, and it's still in your best interest to find the cheapest manufacturing and order bulk items that you know will sell to maximize profits.
But what about the bands that don't tour or play live? Are those projects limited to giving their album away on Bandcamp? Or what about specialized items for album releases? It's so boring to only have CDs. There's gotta be another way right? Well, yeah there is. It costs a little more, but there's ways to get around that, which I'll explain below.
Again, this whole exploration started because of my album. It's a solo recording project, there's no performances, and there's no tours. I have an awesome fan base, but it's small enough that it certainly doesn't make any financial sense to spend money on merchandise that is going to take up closet space and eventually be given away for free. However, I still want to make some really cool stuff and sell it.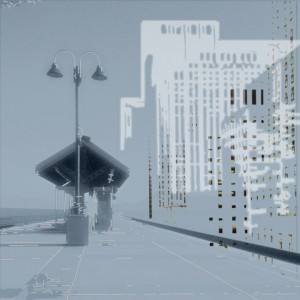 If you're in the same boat, then hopefully these ideas will help you.
Analyze your audience
You've read this before, so I won't take too much time on it. Just like anything else, releasing an album requires a plan…. and plans can be intimidating. Keep it simple by determining who is in your audience, and then think about what they would want to buy.
My audience mainly consists of family and friends, but it also extends to fans that follow the bands and projects I've been involved with throughout my career. With all of that, I might have semi-direct access to about 5000 people using Facebook and other social networks. Most of that audience is only going to check out my album if it's free, but I know a few are going to buy something simply because they want to support it.
I'll probably have a demand for the usual items like CDs and shirts, but I also have a ton of friends that absolutely love vinyl and they would probably jump at an opportunity to grab a limited edition special print. Other people might want to buy a poster and get a free digital download. My goal is to create a diverse merchandise "portfolio" so that there's something for everyone, but I'm also being mindful to avoid getting too carried away because I'm still the only person that will do all the work.
Now, if I was a touring band and had 6 months on the road in front of me, I would consider taking out a loan so that I could spend $1500 on 300 vinyls with download cards, $1000 to print 1000 CDs, 2-3 shirt designs printed in multiple sizes and colors (about $400 worth), and maybe I'd grab a bunch of freebie swag like stickers ($50-$75), post cards ($75), or business cards with band contact info ($10).
That's a decent amount of items, ordered in bulk. It's also a $2500+ investment on merchandise that could easily net about $10,000 or more…. assuming I could sell it all.
However, that is not this project. I need more diversity, but with smaller quantities.
This is where on-demand merchandising services come into play
Now, the big downside here is that on demand merchandising costs more. The upside is that you don't have to pay for it, unless someone orders it. This is perfect for a band that doesn't perform. And even if you do perform, there's definitely ways to take advantage of this by running an online store.
Let's start with CDs. You can have CDs printed on demand with full color artwork and color printing on the disk and shipped for ~$8 or less. You can sell it for $20. 
Now, I'm fully aware that it can be challenging to get an average audience member to buy a CD for $10+. We struggle with this at every show, US, Canada, and all over Europe. "10-whatever currency" is the going rate, and people feel cheated if you ask them to pay more. However, this is a solo project, and my audience is not the guy at a bar that only has $6 cash left and wants to drunkenly haggle for the CD; my audience is people that either expect to listen to my album for free, or they want to support my music for a slightly inflated price. $20 is totally reasonable.
What's cool, is that you can use on demand merchandise for almost anything now including CDs, vinyl, clothing, posters, flyers, puzzles, coffee cups, mouse-pads, whatever. That's way more stuff than you can comfortably tour with.
Who should I use, and what kind of prices can I expect?
I've found several great on-demand merchandising outlets in my research. Here's a couple of the best. If you have others, please post them in the comments because I'd love to check them out.
On Demand CDs
Cost estimate: $5-$8 per unit. Sell them for $20.
1. The best on demand CD printing option is CreateSpace
Backed by Amazon.com, CreateSpace provides you with easy to implement on demand CD printing. Full artwork, full packaging, barcodes, and the added bonus of being available in Amazon.com. It's not the best price, but automatically being in Amazon.com's online store gives you physical distribution – and Amazon Prime users get their normal benefits.
2. Kunanki is also a top option for on demand CD manufacturing option
For $1, Kunanki will manufacture your CD with full color printing, jewel casing, 2 panel inserts, cellophane wrapping, a barcode, and they will ship it in 24 hours. They even provide a web store backend that lets you take orders with paypall, which they  handle for you. Essentially, you can sell your CD for $20, and they do all the work for about $2 per disc + shipping. That's a huge profit.
CD Baby does it, too, but shipping on a single disc is about $14, essentially zapping your profits.
On Demand Vinyl
Yup. It's possible, and the quality has increased over the last few years. It is pricey, but again, you don't have to pay for anything unless your music supporter orders it. The best options I've found are companies that cut directly into virgin vinyl. The album is cut using the same technology concepts that bands use when they "record" direct to vinyl. It's a higher quality sound than lathe cutting on other plastic material, and real vinyl should hold up almost as well as pressed vinyl.
Keep in mind, vinyl cutting is a laborious process. Everything is done by hand, and your cost is going to fluctuate based on the number of minutes+seconds of audio that have to be carved into each disc. Typically, you wont get much of a discount for bulk ordering because each record takes the same amount of time to make.
Here's the best on demand vinyl cutters that I have found.
High Quality:
Cost estimate: $40-$90 per unit (depending on length and size). Sell them for cost + $20.

USA: Tangible Formats tangibleformats.com
Tangible formats will cut a "one-off" into 7″, 10″, and 12″ vinyl. They have packaging options including full color jacket printing, labels, and sleeves. You can do single one-off cuts, but the best pricing option is 5 albums for ~$250.
AUS: Vinyl Groove vinylgroove.com.au
Vinyl Groove is based in Australia and they can do some pretty nifty things with a record. Shipping is expensive, but they more than make up for it with great customer service and quick response times.
UK: One Cut Vinyl onecutvinyl.com
One Cut Vinyl seems to be super popular. They have competitive prices, but are booked out weeks in advance. The website is super clear and makes it very easy to place orders online with a handy price calculator.
Lo-Fi:
Cost estimate: $30-$60 per unit (depending on length and size). Sell them for cost + $20.

Meep Records meeprecords.com
Lathe cut into plastic, Meep Records creates vintage sounds by cutting into plastic. This changes the audio a bit, and depending on the project, it might give your album a super cool sound. Great for singer songwriters, anything with a banjo, or dirty punk rock. They've also got some cool tricks like odd shape records, or locked grooves.
LatheCuts.com lathecuts.com
Similar to Meep, LatheCuts will cut your album into a plexiglass material that can have interesting shapes. It's totally a vintage and different sounding. This could be a really cool 'alternate' way to release an album.  Each record sounds and looks slightly different, so it's best for the adventurous music fan.
On Demand Printing on Clothing, Bags, and More
There's a ton of companies that will print single units. The best option you'll have is a print on the material kind of product. Silk screening is the traditional method, but is usually only worth it with larger quantities. Direct printing on garments has come a long way in the last few years and the products are starting to look pretty great, while also becoming more durable. Most of these companies offer really similar products, but prices fluctuate based on a few factors.
Cost per unit varies depending on the item, but shirts can be made for about $~20 each. That price reduces if you order additional units. Try selling them for $30-$35.
Storefront options that provide transparency
merchify.com
Merchify is a service provided by Amplifier. It has several print on demand products, but the most interesting thing is they handle it in a very transparent way. This great if you are approaching this from a community or record label perspective because you get to brand the manufacturing as your own. It runs using a Shopify account.
theprintful.com
Printful is another transparent service with slightly more variety of items. It's got extensions for Shopify, WooCommerce, OpenCat, Magento, and more.
dizzyjam.com
Another great looking print shop that is built with musicians in mind
Non-Storefront
For non-transparent options, there are sites like zazzle.com. These also have a ton of items, but it's easier to use them to fill Kickstart or fundraising campaign orders because they don't have a storefront to manage.
And make sure to always include Digital Downloads
It's become a common practice to include digital downloads with vinyl albums. However, I would argue that you should add digital downloads to everything. Again, we're talking about on demand printing, and this is a merchandising process that is suited for people that are supporting your music. It's likely that you already put your album on streaming sites for free, and download sites for cheap, so why not give access to digital downloads to reward someone that buys your $25 tshirt? Remember, your music is the best way to reward people for supporting your project, and it will increase the value if the merchandise.
CDBaby.com will print single-use download cards
This is great if you want the download to only work once. There is a minimum order of 100, and they cost $49 for 100. The benefit is they also provide lossless high quality .flac files for the audiophile enthusiasts.
Tunepatch.com will host your mp3 files, and provide access through a QR code
This is actually a project I am developing, but it provides a powerful alternate to expensive download cards creating digital download access points. I developed Tunepatch for this purpose several months ago as a solution to provide downloads with a t-shirt that one of my bands was printing. Tunepatch makes it possible to upload MP3 files and generate digital download access point QR codes that you can print directly onto your merchandise. It's free to use for beta users, but currently the site doesn't limit the amount of times your files can be downloaded. Think of it this way: you could effectively distribute a copy of your album by selling a flask of your album cover.
In Conclusion
There's a ton of options out there to create on demand merchandise. It's just a matter of presenting those options to your audience in a way that generates the most impact. In my next post on this subject, I'm going to outline the ways you can use a crowdfunding campaign to generate a bit of a buzz around the launch of your album. Sign up on my newsletter, or follow me on twitter (@calebdolister) to get notified when it's published.
You can also view the same post on Medium or Tumblr if that's your jam.
Oh, and if you have some other ideas for using or creating on-demand merchandise, please post in the comments!