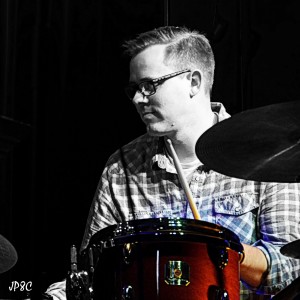 Caleb Dolister
Drummer, Producer and Composer
www.calebdolister.com
Short Bio
Caleb Dolister (calebdolister.com) is an active musician based in New York. He's currently the drummer and a producer in The Kandinsky Effect (thekandinskyeffect.com), which is an acoustic/electronic ensemble focused on exploring modern instrumental composition and is based in both Paris, France and New York, U.S.A. In addition to the band, Caleb composes, produces his own music under the project name "Daily Thumbprint Collection (dailythumbprint.com), and runs SNP Records (snprecords.com), a small music label geared towards helping creative music projects get off the ground. Caleb is also an active web developer, and pursues dual careers in both tech and music projects (tunepatch.com).
Extended Music Bio
Caleb Dolister (born 1981) is a drummer, recording artist, engineer, producer, and composer. Growing up in a musical family created an opportunity for Caleb to begin learning his instrument at a very young age, and allowed him to begin performing in ensembles by the age of 8. Caleb pursued an education in music, with an emphasis on Jazz Performance at the University of Nevada, Reno.
In addition to performing regularly as a sideman in multiple groups, Caleb has been a member of several noteworthy projects including "The Electrosonics" (2001-2007), "Sol'Jibe" (2007-2009), "Dr Mint" (2007-2013), and Cuneiform recording artist "The Kandinsky Effect" (2009-present), which regularly performs throughout the U.S, Canada, Europe, and parts of Asia.
Throughout his career, Caleb has spent significant time working to perform and record with projects located in several important music cities, including Nashville, TN, Los Angeles, CA, New York, N.Y, and Paris, France.  As a recording artist, he as had the opportunity to play drums on over 30 commercially released albums, and earn production and engineering credits on an additional 10 releases.
In 2008, Caleb also started and released his debut solo recording project, Daily Thumbprint Collection, a 100% self-produced project including all compositions, engineering, mixing, mastering, and production work. His second album in the series, "Stencils", was released in the same style in 2015. A third album in the series, tentatively titled "The Hum" is scheduled for a release 2016 and will include guest appearances, performance, and collaboration by more than twenty world class musicians.
Other Music Related Projects
SNP Records
snprecords.com, a small and collaborative independent recording group focused on providing an organic outlet for creative music projects. The project is run by musicians and caters to both working bands and individual single release projects.
Tunepatch
tunepatch.com, is an experimental project that gives bands, small labels, solo musicians the ability to easily create digital music hotspots using print band merchandise or promotional materials. It's currently enjoying a beta release, and is available to use for free.