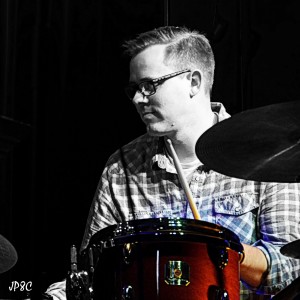 Caleb Dolister
Drummer, Producer and Composer
calebdolister.com
Caleb Dolister (calebdolister.com) is a musician and web developer based in New York. He currently drums, produces and composes for The Kandinsky Effect (thekandinskyeffect.com), an acoustic/electronic trio known for their unique approach towards instrumental composition based in both Paris, France and New York, U.S.A. Additional music highlights include his own project as the pseudonym "Daily Thumbprint Collection (dailythumbprint.com), Dr, MiNT (drmint.com, L.A./metal/jazz/improvisation), Twin Whales (twinwhales.com NY/Rock) and SNP Records (snprecords.com), a simple music label geared towards helping creative music projects get off the ground. As a web developer, Caleb enjoys working on his crossover music/tech platform which allows the sharing music instantly through non-traditional mediums (tunepatch.com).
More information and background
Birthday: 10/20/1981
Both parents are musicians.
Likes to cook.
Went to college at University of Nevada, Reno and studied music with an emphasis in jazz performance.
Has spent significant time working to perform and record with projects located in several very interesting music cities like Nashville, TN, Los Angeles, CA, New York, N.Y, and Paris, France, and has contributed to over 40 commercially released albums,