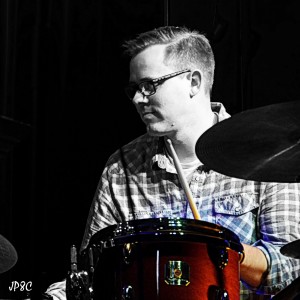 Caleb Dolister
Drummer, Producer and Composer
Web Developer and Consultant
calebdolister.com
Caleb Dolister (calebdolister.com) is a musician and composer. He currently drums, produces, and composes for The Kandinsky Effect (thekandinskyeffect.com), an acoustic/electronic trio known for their unique approach towards instrumental composition and based in both Europe and US. Under his own name, Caleb composes, performs, and produces music for an ongoing album series titled Daily Thumbprint Collection, which releases solo and ensemble recordings.
Additional projects include Warren Walker Duo, Dr. MiNT (Los Angeles, metal/jazz/improvisation), Twin Whales (NYC, Rock), and SNP Records, a barebones music label geared towards helping other creative music projects get off the ground.
Caleb is also a web developer and consultant and has worked for Fullpower Technologies, Inc, since 2005. He learned how to code as a teenager in order to build a website for his first band. As a web developer, Caleb enjoys working on a hobby project involving music/tech called tunepatch.com.
More information and background
Both parents are musicians. His father, Joe Dolister is a bass player. His mother, Merri Mckee is a singer, pianist, and guitar player. Caleb grew up gigging on the weekend with the family cover band a music community around the greater-Lake Tahoe area.
Attended the University of Nevada, Reno and studied music with an emphasis on jazz performance.
Has spent significant time working to perform and record with projects located in several interesting music cities like Nashville, TN, Los Angeles, CA, New York, N.Y, and Paris, France, and has contributed to over 40 albums available on Orenda Records, Cuneiform Records, Ropeadope Records, pfMentum, Nine Winds, New World Records, SPAT!, SNP Records, Air Tahoe Records, Northern Tone.
Can't eat enough fish tacos.